Posted On
A Month in one of North Americas best sport climbing locations
by Luke Dean.
My eyes shot open waking me, as the car my friend Liam and I were going to call home for the next month, shook from a passing semi. I took a deep breath and watched it condensate in front of me, and I thought to myself, "the things I'll do for rock climbing."
It was 5 A.M. and Liam and I were pulled over on a gravel road beside the North Dakota interstate. We'd been driving for a whole day already and we both started to grumble into action knowing that this wasn't our last day on the road either. Liam rolled over and sleepily grumbled that it will all be worth it soon, I chuckled. While I must admit that sleeping in the driver seat of your car in almost freezing temperatures on the side of a pullout on a US interstate, that I don't remember the name of, is definitely not my idea of fun, it undeniably had an exciting air to it considering that our final destination was the Red River Gorge.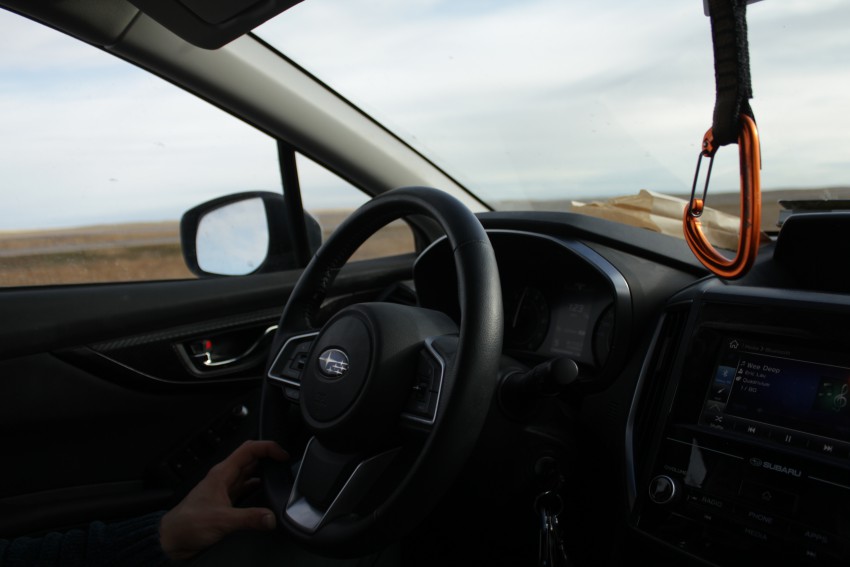 Life on the road. photo: Liam Haigh
One and a half days, one more car sleep, a debit card scare and numerous coffee's later, Liam and I took exit 33 towards Stanton/Beatyville for the first time. Excited is an understatement after how long our drive had been and how long we'd been planning this trip for. As the interstate changed to a winding back road with cute coffee shops and numerous adventure tour centres I couldn't help but start to grin. We were here, we were in the Red!!! As we rolled into the iconic Miguel's Pizza, Liam and I smiled at each other yelling various three days in the car crazed "we're here's." at each other, it was exciting for both of us knowing that for the next month there was no commitments and no jobs, just rock climbing full time, something I'd been dreaming about doing since I began climbing outside.
We carried our camp stove over to the pavilion and stowed it, where we were told by a friendly old man that I would later find out was Miguel himself that we could set up our tent early even though we couldn't pay for camping until 4pm, when the gear shop opened. We proceeded to set up our tent in the semi wooded semi swampy field behind the pizza place and pavilion. We made our way to the gear shop where we payed for camping and got good "warm weather" beta for our next days climbing, as it was around 30 degrees Celsius out when we arrived, which although more than a little hot for ideal friction, was a nice contrast to the snow we were hearing our friends were getting back in Calgary.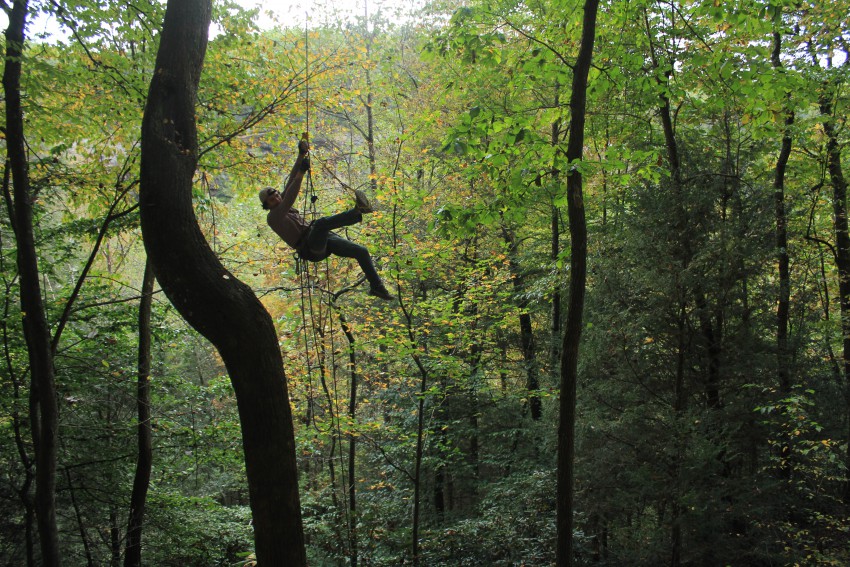 Zachary Wambsganns jugging our photo line at the dark side, which gives scale to how steep this wall is, he's on the anchor! Photo: Luke Dean
We had been told by a close friend to go get our minds blown at the motherlode the first day, which is exactly what we did. After the pumpiest "warm-up" I had ever done, we proceeded to walk over away from the warm up wall to where the real action is, the madness cave. This cave is huge!!!!! And very intimidating, Liam and me both proceeded to get spat off low down and pumped out of our brains on B.O.H.I.C.A., one of the madness cave classics, before venturing our way over to the almost equally as impressive undertow wall where we continued to get spat off with an absolutely savage forearm pump. We could tell pretty quick that this place had a learning curve. We finished our first day with my 60ish foot, pumped out of my mind, draw skipped semi accidentally, first big whipper of the trip. Later on, back at Miguel's, we were settling into our home for the next month with two ale 8's and some home made vegetarian chili.
The next morning as we were boiling our water for oatmeal and I was stretching out my forearms I looked up to a man reading a cocktail book looking at me stretch. We made eye contact and he said, "tendonitis? I've been there, that sucks." I said I'm just tight and stretching out for the day. He introduced himself as Gus and we continued to chat. Gus would become one of our super tight friends over the course of the next month and one of the many amazing people that Liam and I got to spend our month with. We proceeded to head over to the solar collector and darkside crags, which are both absolutely spectacular crags that were soon to become somewhat regular hangouts for us. Both of us continued to get spat off, pumped out of our brains regardless of what we tried. We kept telling ourselves everyone says it takes a week to get fit, don't get discouraged. Which was partially true. After a week you could hang on while pumped out of your mind but controlling the pump was still next to impossible.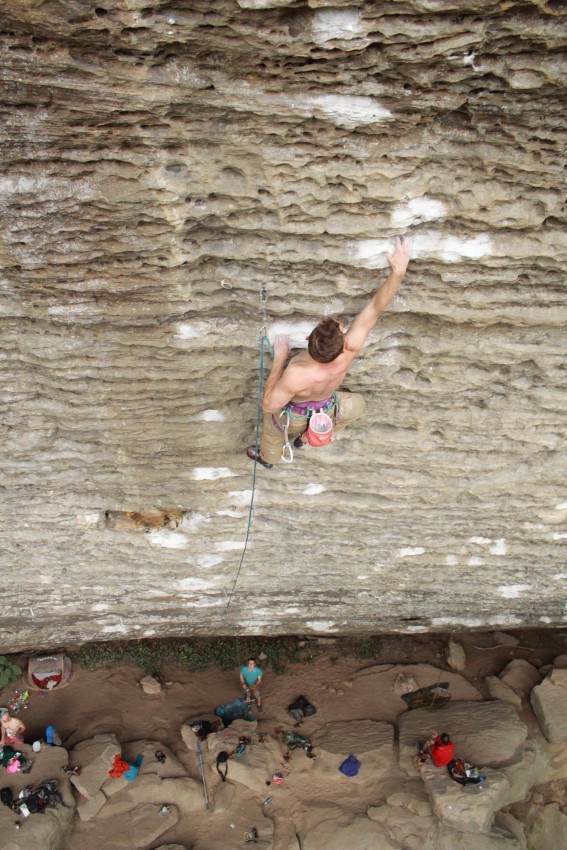 Me high up fighting the pump on the force 5.13a, the darkside
Photo: Zachary Wambsganns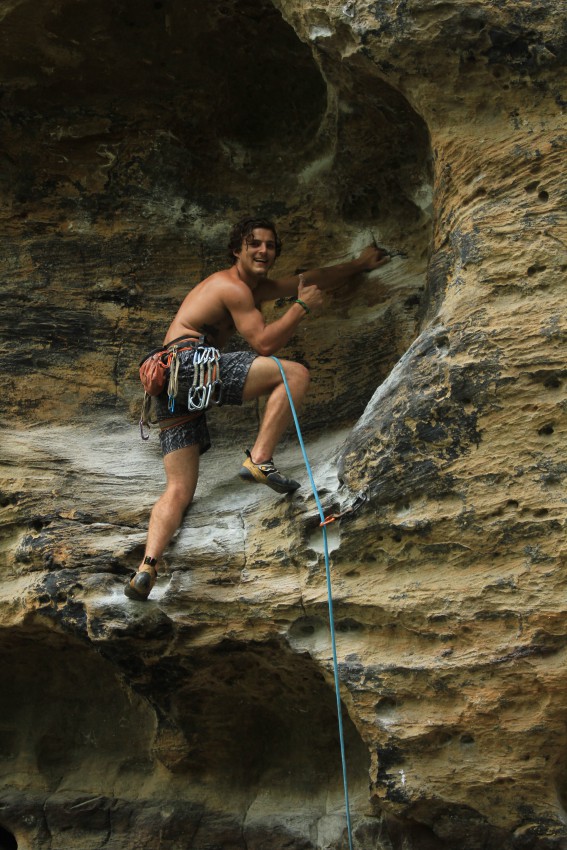 Zach hanging out in the hole on buddha hole 5.12a, solar collector
Photo: Luke Dean
The next couple weeks we found our semi regular crew which included our cheery friend Zach, our Kansas City Wildman Gus, our Netherlands crusher Mathieu and his kind and crazy strong wife Roline. The next couple weeks went by way to quickly, we tried so many classic routes, sat in the dark Miguel's pizza basement as it poured 50mm a day of rain for almost a week, started to get fit and did so much amazing climbing. Some notable days in those two weeks would be seeing pure imagination and the golden ticket at the chocolate factory, getting greased off the classic spank at the drive by in the pouring rain and almost 100% humidity, all of the good times with friends, and some of Liam and my hardest onsights we had done so far in our climbing careers.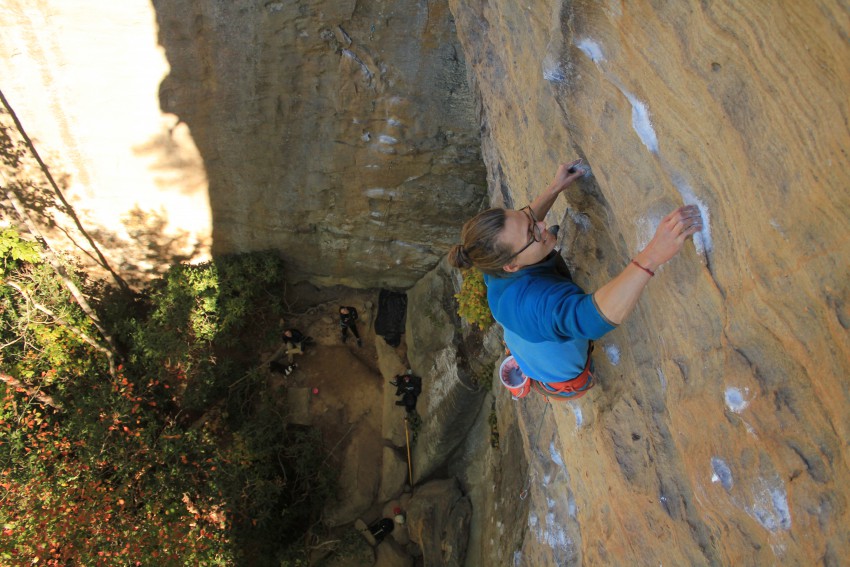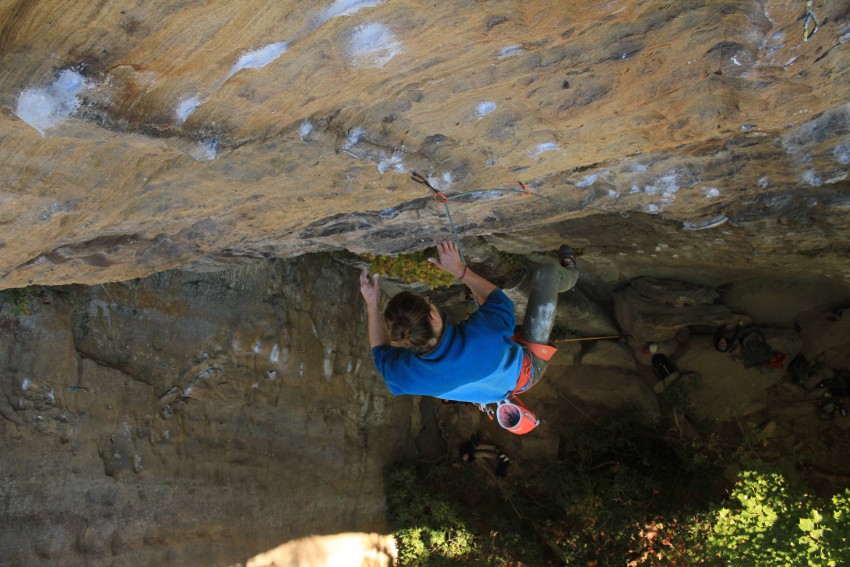 Liam coming oh so close to an onsight of Gilgamesh 5.12b, the chocolate factory
Photos: Luke Dean
Rest days could be quite a bore, so we filled our time with trips into Lexington to eat donuts, drink coffee and get reliable wifi to message our loved ones. We would flip through the guidebook deciding where to go the next day.
While we were in the red we got to climb at so many classic areas like the motherlode, chocolate factory, purgatory, drive by, darkside, solar collector, gold coast, the zoo, muir valley and so many more very amazing areas. The red was an amazing experience and I'm so psyched I got the opportunity to go! Amazing climbing and amazing people!! Here are some notable pictures from our time there.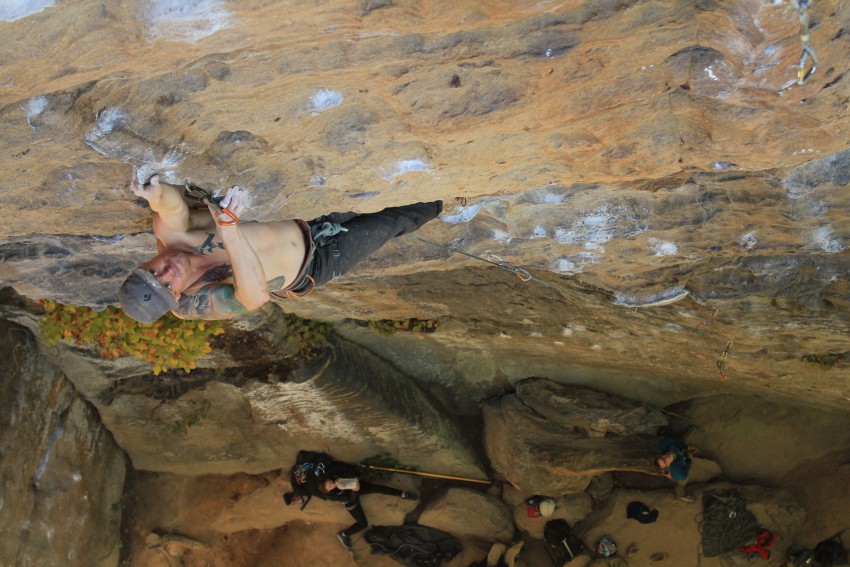 Gus trying hard on Gilgamesh 5.12b, the chocolate factory Photo: Luke Dean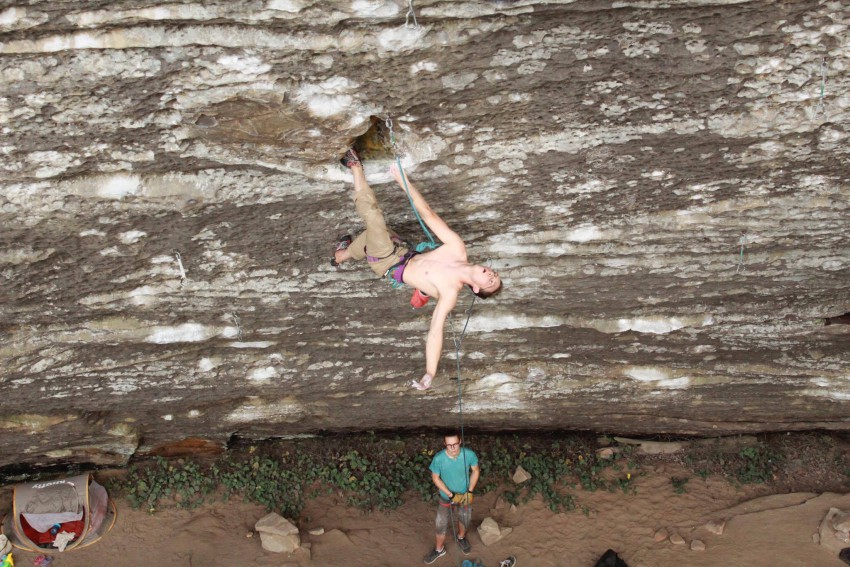 Shaking out on the force 5.13a, the darkside         Photo: Zachary Wambsganns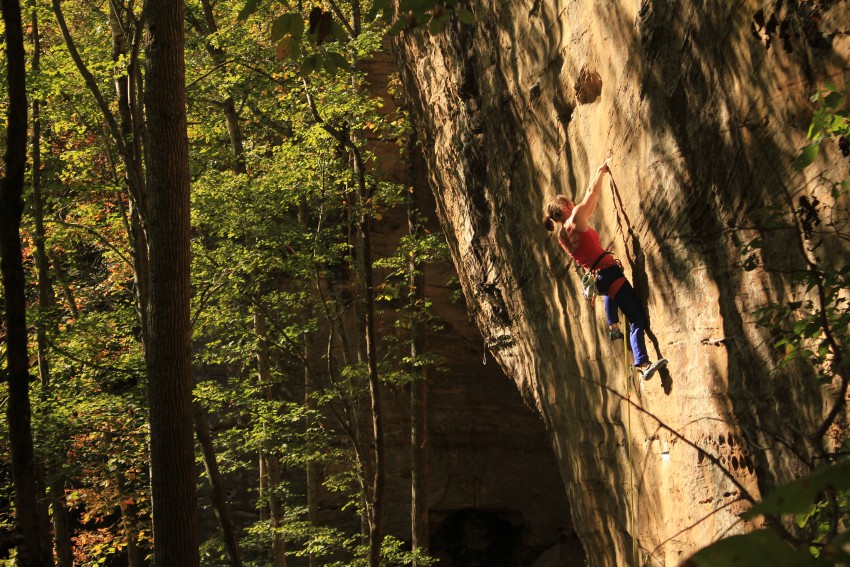 Roline Cruising on Gene Wilder 5.12d/13a    Photo: Luke Dean