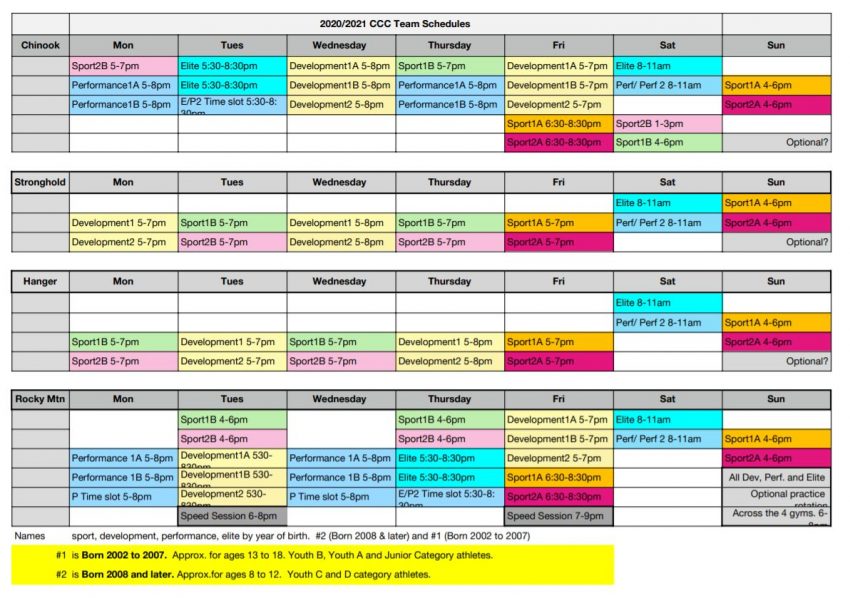 —
Oct 6th 2020,
Looking to join one of our Youth Training Teams.  Alternate Tryouts are Set for October 17th.
Please register for these alternate tryouts HERE.
—-
Sept 15th, 2020
Thank you for the amazing support!
At this time, we are not accepting applications to our youth teams. In October, we will host a secondary tryout opportunity. In the meantime, get climbing with your family or join one of our junior clubs.
Aspiring Team Athletes should be bouldering consistently in the C3/C4 range (and up) and should be able to complete 5.10 climbs without taking a break. if you are at that level or greater, age 9 and up,  send our Head Coach Jelisa an email to request being put on the interest wait list.
jelisa@calgaryclimbing.com
See you on the walls!
-CCC
—–
August 1st 2020,
Interested in joining a competitive youth training team?  Join the CCC Team program!
We offer a wide range of training teams this year.  From newer athletes just starting out to advanced full time training teams.
Full info for Fall 2020 will be posted here by August 17th. Check back for info on Offerings and Tryouts.
PLEASE Carefully Have a read of all this info before registering for tryouts.
Thank You.
-CCC
—
August 1st 2020,
BREAKING NEWS:  We are excited to announce that the amazing Chris Neve has joined the CCC Team as the High Performance Manager.  His years of experience as a National Team Coach are a great addition to our program! Chris will be working with our athletes to improve all facets of their climbing. Chris has been coaching National level athletes for 11+ years. Looking forward to great things.
also, have a look at our new Speed Team information down below.
—
We have 4 levels of CCC YOUTH TEAMS. Sport (newer athletes), Development, Performance and Elite.
Tryouts for new and select returning team athletes (Sport and Dev levels) will be held September 7th to 9th. Tryouts are a one hour period where we meet the athletes and observe them climbing in a small group environment.
All returning athletes will get a direct email between August 17-20 to indicate if they are pre-selected for teams or need to tryout this year. If you have not received your direct email by the 20th, please email head coach jelisa@calgaryclimbing.com
NEW to CCC athletes can register for a Tryout Time. HERE  (AFTER having a look at the info below).
For existing Performance and Elite level athletes this year  we are having a new Selection Camp Process which will be held from August 31st to September 9th. (3 practices and a mock comp event each). A schedule will be emailed to all existing athletes shortly.
If you believe you should be considered for a placement on our upcoming 2020 Performance or Elite Teams, please email Head Coach jelisa@calgaryclimbing.com now.
—
All Youth Teams will start Monday September 14th and run for 8.5 months.
REGISTRATION for TRYOUTS is now closed. 
—–
Characteristics all CCC Athletes should have:
Loves climbing.

Ambassador for the CCC, themselves, and their team.

Respectful to staff and customers at all times.

Hard worker, is determined to do their best.

Good teammate, supportive of their goals.

Focused.

Committed to their training and team.

Motivated to improve their climbing.

Has a growth mindset.
Sport Canada has invested in the concept of life-long involvement at all levels, and all sports in Canada incorporate this into their programming. We incorporate the Long-Term Athletic Development (LTAD) model within our program so there is a progression for every climber to move through each stage as they are motivated to do so.
For more information on LTAD, please follow this link: https://sportforlife.ca/long-term-development/
—
All our Teams go from Sept 14 to the end of May.  8.5 months.
Fees can be paid Monthly or all at once with Prepaid options.
September fees are half.
—
Team Descriptions. 
CCC Sport Teams – This is where it all begins. Climbers will work with coaches and peers to start their journey in climbing, developing strength, technique and climbing strategies while spending a lot of time on the wall exploring movement and learning how their bodies work in a 3D environment. Participation in our Sport Cup series will allow the climber to test out their skills in a fun competition environment.
This program is associated with the LTAD Stage: Learn to Train
4 hrs/week. $160+gst/month
CCC Facility Membership to team location required.
CCC Development Teams– Climbers on this team are ready to build on their improved climbing skills, and therefore are looking to step up their training as well to correspond with this goal. The focus is still on developing strength, skill and technique but there will be more emphasis on starting to progress training principles in the areas of physical, technical, tactical and mental development. Competitions will also be a focus as participation in the provincial competition circuit will be encouraged to all of those that are interested.
This team is associated with the LTAD Stages: Learn to Train & Train to Train
5 hrs/week. $195+gst/month
CCC Facility Membership to team location required.
CCC Performance Teams – A progression from the Development program, climbers here exhibit a desire to dive into more formalized training programs that are suitable for their stage of development. Competitions will be focused on the Alberta Climbing Association schedule and possibly onto the regional and/or national level with Competition Escalade Canada. Expectations to strive for improvement in bouldering, rope, and speed are required as all three disciplines have lots to offer for any climber's development in their preferred discipline.
This team is associated with the LTAD Stages: Train to Train & Train to Compete
9 hrs/week. $245+gst/month
CCC Multi-Facility Membership required.
CCC Elite Teams – Athletes in this program have a focus on training, progression, and goal setting that is compatible with striving for success at national and/or international competitions at the youth and open levels. Commitment to progression in all four areas (physical, technical, tactical, and mental) is a foundation and needs to be applied to both training and competition settings. Although there will not be a requirement to compete in all three disciplines (boulder, lead & speed), all will be used to advance athlete's performances and the desire to improve in each is expected. Climbers in this program must be in Youth B or older age categories.
This team is associated with the LTAD: Train to Compete & Train to Win. 
9 hrs/week. $275+gst/month
CCC Multi-Facility Membership required.
—-
CCC Speed Team
This season, the CCC is initiating a formalized speed program to develop athletes in this discipline. Although the official start of the team will be in December, any CCC athletes interested in trying speed can join our weekly Speed Sessions on Tuesday and/or Friday evenings starting in October. Speed  sessions will be led by Chris Neve, CCC High Performance Manager.
The Speed Sessions will focus on creating experience on the speed course using video analysis, speed-specific drills and lots of time on the wall learning the moves involved. This will be a great opportunity for all climbers to see what speed is all about!
In December, these sessions will be more formalized with a group of athletes that are looking to improve their speed abilities while looking towards upcoming competitions. To accommodate the athletes' schedule, all speed athletes will have their training schedule coordinated with the speed team to ensure they are not being overloaded. A commitment to the speed team of at least one day of in-person speed training will be required until the end of the competition season.
—
Competitions this year.
We have not seen a schedule from the Alberta Climbing Association (ACA) yet but all we can say is that the CCC will host team comps and events in one form or another. If we can't all get together to have the usual scramble events, we'll still figure out a way to have performance based events where we get to see how our training is doing. More info to come when the season will begin.
—
The impact of Covid.
As the Fall weather returns, so do climbers to our facilities. As such, the gyms will be getting busier come September and we are asking all our CCC athletes to follow our Covid procedures and Wear a Mask when they come to climb as per regulations from the City of Calgary.
We'll make adjustments as necessary to this policy as per instructions from the Alberta and Calgary leaders.
CCC Athletes will be required to wear masks at all times in the facilities.
—
Popular Locations / Teams
Some of our teams are in HIGH demand!  We may not have enough room for your athlete at your first choice location / time. Due to this demand, some of the teams will have a higher threshold for acceptance. Please consider an alternate location if that affects you.  Head Coach Jelisa will be in contact and offer alternate options if this situation arises.
—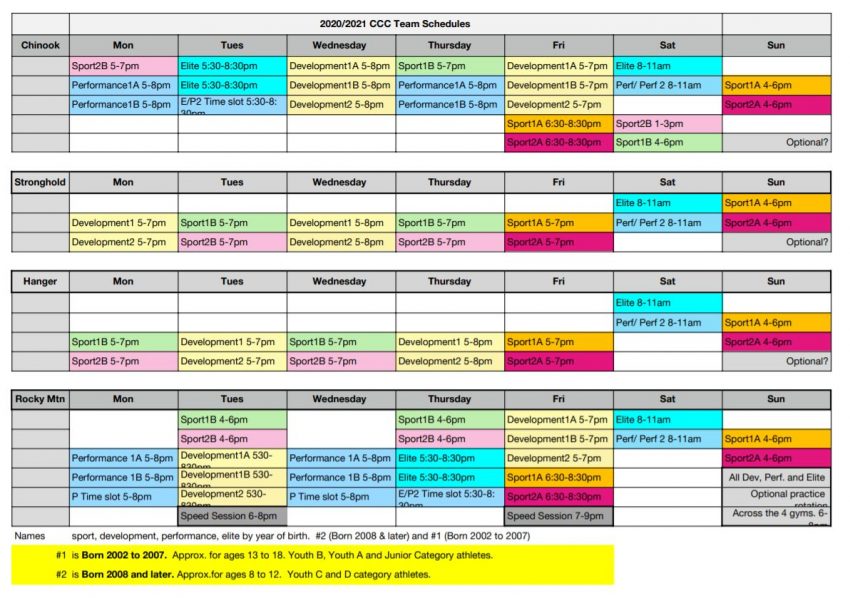 Here is a downloadable version of the schedule.
CCC Team Schedule- 2020_2021.xlsx – Team Schedule
—
All Youth Teams will start Monday September 14th.
REGISTRATION for TRYOUTS is now closed. Thank you.