Event Date:
Nov 19 2016| all day
Location(s): Chinook
CCC Chinook TDB Competition.
On Saturday November 19th, 2016, the Calgary Climbing Centre will kick off the Calgary Tour de Bloc season with a local bouldering competition at its Chinook location.
This is a fun and exciting event with lots of new boulders set for all abilities, a Live DJ and tons of prizes.
We will have 50+ brand new problems to challenge everyone. You get to try any problem as many times as you would like. Your best 6 completed problems will give your score. The top 6 men and top 6 women from the morning Elite round will compete in an on-sight final that night.
Click HERE to Register. Nov 17th update!!!! We only have space remaining in the middle Adult Round and one spot in Youth round . Elite and older Youth Categories are now SOLD OUT.
Available Categories separated by Male/Female
Adult Elite ( previously Open) Born 1997 or earlier
Adult Ages 20-29
Adult Ages 30-34
Adult Ages 35-39
Adult Ages 40+
Youth Junior Born 1998-1999
Youth A Born 2000-2001
Youth B Born 2002-2003
Youth C Born 2004-2005
Youth D Born 2006 or later
Top 6 male and top 6 Females from  Elite round will go to finals.
No finals for Rec Adults and Youth categories.
Finals will be 4 problems. World Cup Style.
Registration
$50+gst for the Elite and Youth Categories, $40 for the Adult Rec Categories.

Elite and Youth must be an ACA (Alberta Climbing Association) member or a $5 one-day membership fee will be applied.
For more info visit albertaclimbing.org.
No spectator fee for finals.
Schedule for Saturday November 19th 2016.
Round 1.  SOLD OUT!!!
7-7:45am Elite, Youth A and Junior Check-in.
7:45am Competitor Meeting for this round.
8-11am Qualifier Scramble Format (top 6 problems)
Round 2.
10:30-11am Adult Recreational Check-in
11am Competitor Meeting for this round.
11:15am-1:45pm Recreational Scramble Format (top 6 problems)
Round 3.
1:45-2:15pm Youth B, C & D Check-in
2:15pm Competitor Meeting for this round.
2:30-5pm Youth Scramble Format (top 6 problems)
6:30pm Awards for Youth Categories
6pm Finalist Isolation Opens
6:30pm Finalist Isolation Closes
7pm Bouldering Area Opens to Spectators
7:10pm Awards to Adult Rec Categories
7:30-9:30pm Elite Finals
10pm Elite Awards and Prizes ($2500 Cash between finalists)
10:30pm Party at Limericks.
Photos by Ben Haley.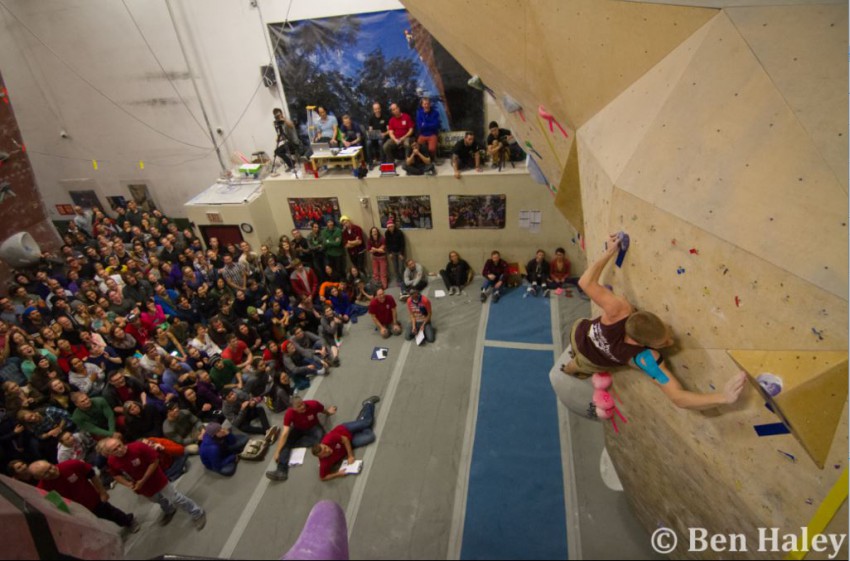 Watching some Finals action.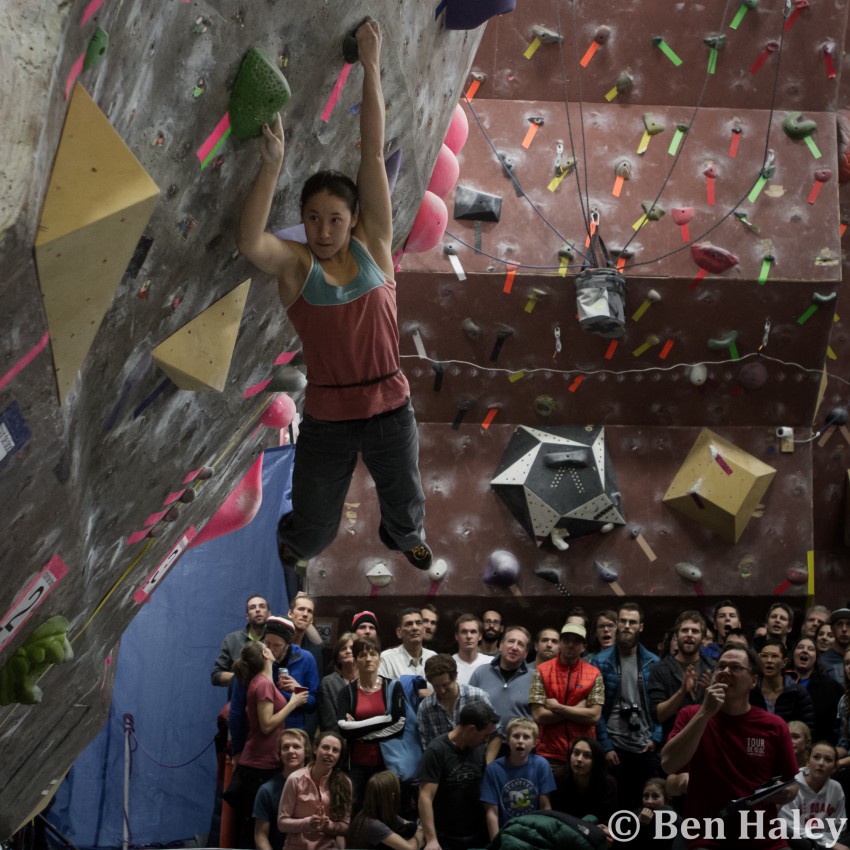 Alyssa Weber getting it done.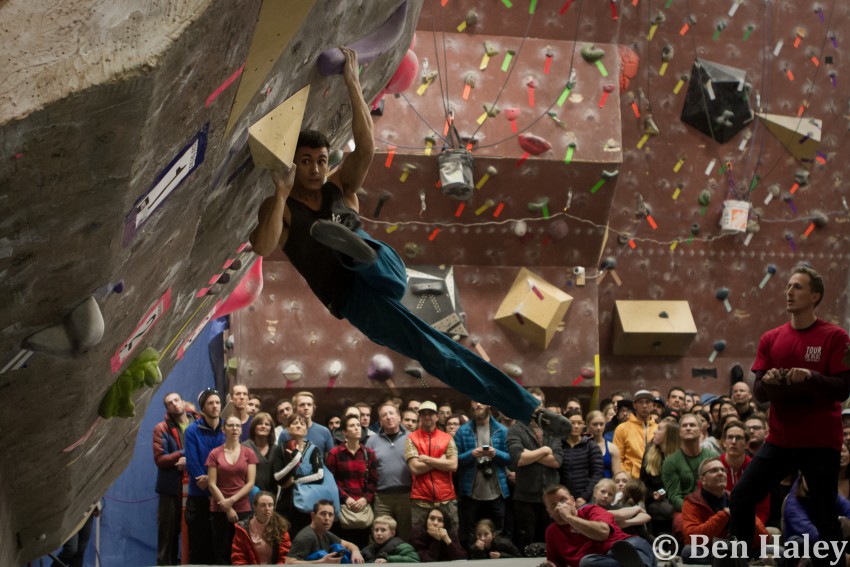 Eric Sethna with the kung fu kick.